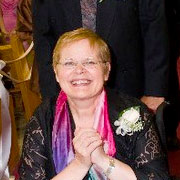 [click for a longer interview with the author]
How I made accidentally a million dollars from my hobby
My name is Leila Peltosaari. I spent my early childhood on a small farm in Finland with my parents and three sisters. After graduating from college in Vaasa, I moved to Helsinki. Zigzagging and working across Europe, I met my husband while hitchhiking. We lived in France, Switzerland, and Finland and then moved to Montreal, had two children, and started a small mail order company. When money was tight, I made adorable outfits for our children for pennies out of fabric remnants. Compliments from others led me to send some of my designs to one magazine I liked. When I was rudely turned down, the negative feedback filled me with unexpected energy. To get the sting out of my mind, I became determined to prove them wrong so I compiled my designs and printed my first little pattern book.
To my surprise, America's biggest women's magazine loved my booklet. They gave me a full-page feature article that brought an avalanche of orders and a seemingly endless flow of money in the mailbox. It was early 1980s, women loved sewing, and the entire North America became our mail order market. That summer we enlisted the help of neighborhood teenagers to help stuff the booklets into envelopes fast enough. The manager of the local post office branch expressed his gratitude because I saved them from being closed due to low traffic. It was a happy accident. With no degree in sewing, cooking, writing, publishing or marketing, I have now written ten books and have made more than a million dollars after being featured in over 600 articles. It was exciting to start a new venture with my husband from square one with nothing to lose. The success from the first books about sewing patterns set the stage for my subsequent books about Halloween Costumes, crafts, and mail order directories. When my son moved away from home for school, I wrote College Cuisine to teach him how to survive in a kitchen on a student budget. When I was diagnosed with breast cancer, I contacted hundreds of survivors and wrote Dancing with Fear: Tips and Wisdom from Breast Cancer Survivors, which was an integral part of my own healing process. Now in remission, I have just completed a new book about my childhood memories.
Yielding to inevitable ebooks is the next step. Some of my books will soon be available on Amazon Kindle. My daughter Rina has delightful plans to convert my timeless sewing books into separate patterns for her www.patterngirl.com. A support group in your pocket: Breast cancer survivors share their wisdom in "Dancing With Fear." A Kindle version is available at www.amazon.com.
Founder of Tikka Books, Leila Peltosaari