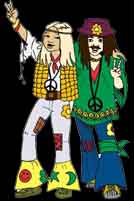 Free Flower Children last-minute costume from Illegally Easy™ Halloween Costumes for Kids.
Quick instructions for Flower Children
Get retro clothes and supplies from thrift shops and novelty shops.
Wear jeans.
Cut two curved pieces from flowered or striped fabric.
Tape or baste them below knees to make bell-bottoms.
Use billowy blouse.
Wear quilted, crocheted vest or denim vest.
Wear a floppy hat.
Wear a long necklace with peace symbol.
Wear crocheted friendship bracelets.
Tie a bandanna or scarf around one knee and a long cord around head over the hair.
Add sixties makeup with pale pink lipstick.