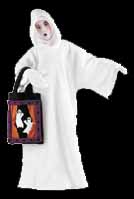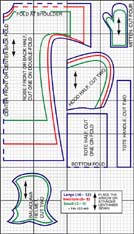 Click here for the pattern
No-Sew Version
Hotglue the few seams.
Safety Tip
For a small child, cut the robe short enough to prevent tripping.
Free Ghost Pattern from Illegally Easy™ Halloween Costumes for Kids.
Ghosts, the spirits of the dead, return to the world of the living on Halloween night. They wander among the excited trick-or-treaters trying to scare everyone with their shadowy images.
Supplies for child
Sizes small 3-4 years old (medium 6-8 years old) large 10-12 years old.
White Polarfleece for hooded robe, balaclava helmet and mittens, 60" (150 cm) wide: 2 yd (2-1/2 yd) 2-3/4 yd, or 1.80 m (2.3 m) 2.60 m.
Black Polarfleece and fabric scraps for tote.
Scissors.
Thread.
Measuring tape.
Paper sheets and grid paper to enlarge the pattern pieces. One square = one inch (2.5 cm).
Hot-glue gun and glue sticks.
Balaclava Helmet
Stitch or hot-glue center front and center back seams.
Hooded Robe
Stitch sides and underarms. Cut sleeve ends wavy. Stitch top and back seam of hood. Stitch hood around neck, overlapping center front edges to fit.
Mittens
Place child's hand on paper and draw all around with large seam allowances and long wrists. Or use pattern as shown. Cut out four pieces from Polarfleece. With right sides together, stitch each two together. Slit seam allowance between thumb and forefinger and trim curves. Turn right side out.
Tote
Fold each handle in half lengthwise, right sides in, and stitch long sides. Turn right side out and press. With right sides together and raw upper edges even, stitch handle ends to the upper edge of bag. With fold at bottom and right sides in, stitch side seams. Turn upper edge under, with handles upward, and topstitch in place through all thicknesses. Shortcut: hotglue the seams and handles. Decorate the tote with two ghosts framed by a window pane and orange curtains, all cut from scrap fabrics and hotglued in place.