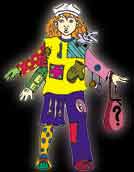 Free Misfit last-minute costume from Illegally Easy™ Halloween Costumes for Kids.
Quick instructions
Compete with friends for the silliest outfit from castoff clothes and toys. Anything goes.
Stuff a sleeve from a discarded jacket for an extra arm. Cut off or roll up one pant leg, wear mismatched socks and shoes, a glove on one hand, a sock on the other.