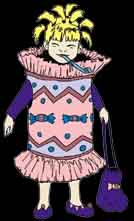 Free Party Cracker last-minute costume from Illegally Easy™ Halloween Costumes for Kids.
Quick instructions
Cut a body tube from corrugated cardboard.
Cut out armholes and punch holes at back edges for strings.
Use duct tape to attach ruffled gift wrap to upper and lower edges.
Add decorations from gift wrap, etc.
Tie child's hair into a dozen silly pigtails.