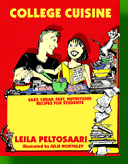 Spiral Binding
123 pages

College Cuisine
See Also: Free Recipes and Other Online Features | Reviews | Order Information

by Leila Peltosaari
Illustrations by Julie Northey
(click here for Julie's web site or email her)
ISBN 1-896106-01-03

This book offers over 150 great recipes. It is a student's first cookbook and kitchen companion. Let this manual guide you to culinary independence.
Equipment, cooking terms, imperial and metric measurements.
Shopping and cleaning tips, safety rules, how to fix mistakes.
Rescue your perishables. We give shelf life for most items, and recipes to avoid wasting leftovers. This list is also available online.
Breakfasts, lunches to go, sandwiches.
Basics (cooking eggs, beans, pasta, potatoes and rice)
Minute meals, midnight snacks, microwave miracles.
Soups, salads and salad dressings, crowd pleasers.
Meat, chicken, fish and vegetarian recipes.
Baking breads, muffins, cakes and cookies.
Sweet stuff and beverages, milkshakes and smoothies.